Why Calypso Canine for your Dogs Training?
Calypso Canine uses balanced training methods that your dog will understand. We are able to communicate with the dog and help them understand what we are asking them to do in a clear manner that is black and white. Dogs learn in black and white. There is not a gray area for a dog. They can be very stubborn making training difficult for owners that don't know how to communicate clearly with their dog. This is why we choose to lay the training foundation thru board and train. From simple tasks of not barging out of the front door, pulling on the leash, and jumping on people to complete OFF LEASH control. We are able to train your dog in 2-3 sessions per day consistently so the training sticks. This makes the training go so much faster vs. one on one in home training with the owner learning at the same time as the dog in 1-3 sessions per week. In most cases we can complete training in 10-14 days depending on how extensive the obedience required or problems that need solving.
Our clear and proven methods are Guaranteed to work whether your dog is HIGHLY food motivated or not. You are NOT left to train your dog at the end of our program like in In-Home Training. The dog will be TRAINED. You will just have to reinforce and maintain the training we already put in place. You will not have to carry around high value treats or hotdogs to get your dog to listen to you. This is BALANCED training methods NOT just REWARD BASED!! This is why we have 100% reliability in the commands without bribing your dog with food. Not all dogs are food motivated and not all food motivated dogs are hungry 24/7 and who wants to be stuck carrying around food 24/7 just to get your dog to sit for you.
We are constantly attending dog training seminars, workshops, & competitions to stay fresh and up to date with the latest dog training methods and techniques with continuing education. We are very passionate about dog training. This is not just a business but a way of life for us. Family owned and operated we take pride in what we do.
We are located on a beautiful 5 acre property with a fully fenced training field and indoor training building. Your dog will be kept in our climate controlled boarding and training room indoors. They get multiple potty breaks and playtime / socialization throughout the day. This is a family business. You will be dealing directly with the people training your dog and you will have direct contact at all times. We send picture and video updates on the dogs progress throughout the entire program.
We also offer:
A Full Money Back Guarantee. If you are not happy with the results AND we cannot fix the behavioral issues you requested that we agreed to solve we will give you your money back. We don't make promises we cannot keep.
Free Refresher Training. If at any point your dog is regressing for any reason at all. We will schedule you to come back and work 1 on 1 to resolve any miscommunications or issues you are having with your dog at NO CHARGE.. FOR LIFE!!
We are LICENSED to Board and Train in Palm Beach County by Animal Care and Control and have the Credentials to show it. This is VERY important when choosing a trainer.
Our 5 Acre Property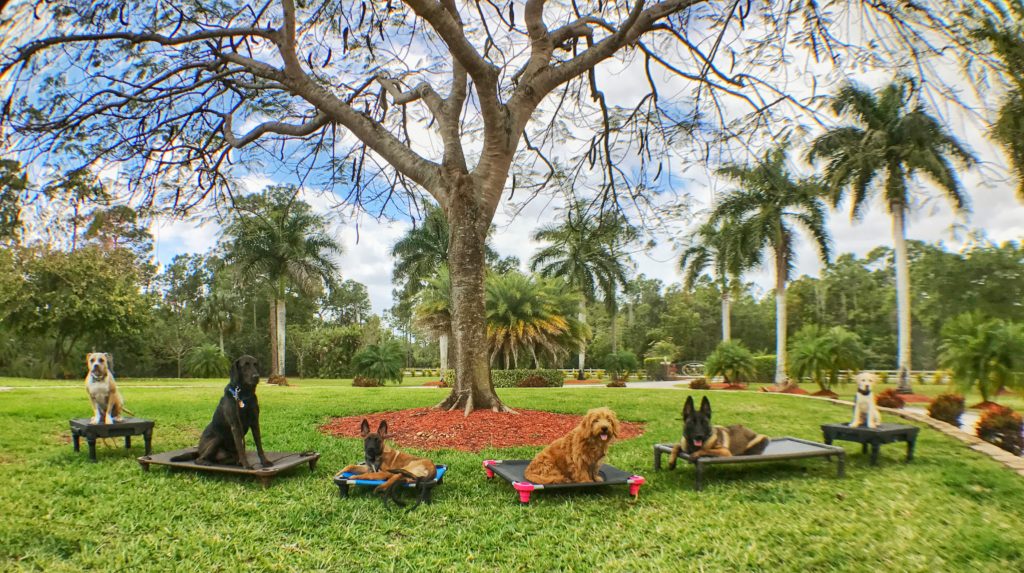 Air Conditioned Indoor Training Building and Play Gym